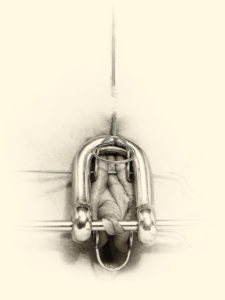 Míla Bugtcher
Model #10 is not afraid of pain, so I chose grilling needles that I usually use during my playpiercing games. Piercing skin using grilling needle demands strength and is exhausting both for me and for Model. Model was optimistic in the beginning but during installation she got really tired and when I removed needles after sesion she was really happy. When we found (after few weeks) that Petr's hard disk broke down and her photos were not backed up elsewhere, she was everything but happy. On the other side I was quite happy, because I was not satisfied with final design and thougt what was missing there. Second photo session I completed with massive trocar, which I (using strength and lubrikant) pulled through her inner labia piercings. I continued with grilling needles up to my total work satisfaction.
Model #10
I decided to collaborate on this project for more reasons- I like to be part of visually ineteresting and beautiful things, I like pain and I have very close relationship to exhibicionism. For me the project is about art, pleasing the eye and pleasing the body. I was looking forward to the shooting, but for the first shot I wasn't in good condition, so it was pretty tough for me. I enjoyed the second time more, even I wasn't glad to hear that we need to repeat the session, because both the visual result and whole experience were far better then the first one.

And how would people around me look at me? Well people have seen me on many pictures duringy many situations, so this picture has no chance to chenge their opinions on me. Above that I'm surrounded by people that ride the similar wave as I do.