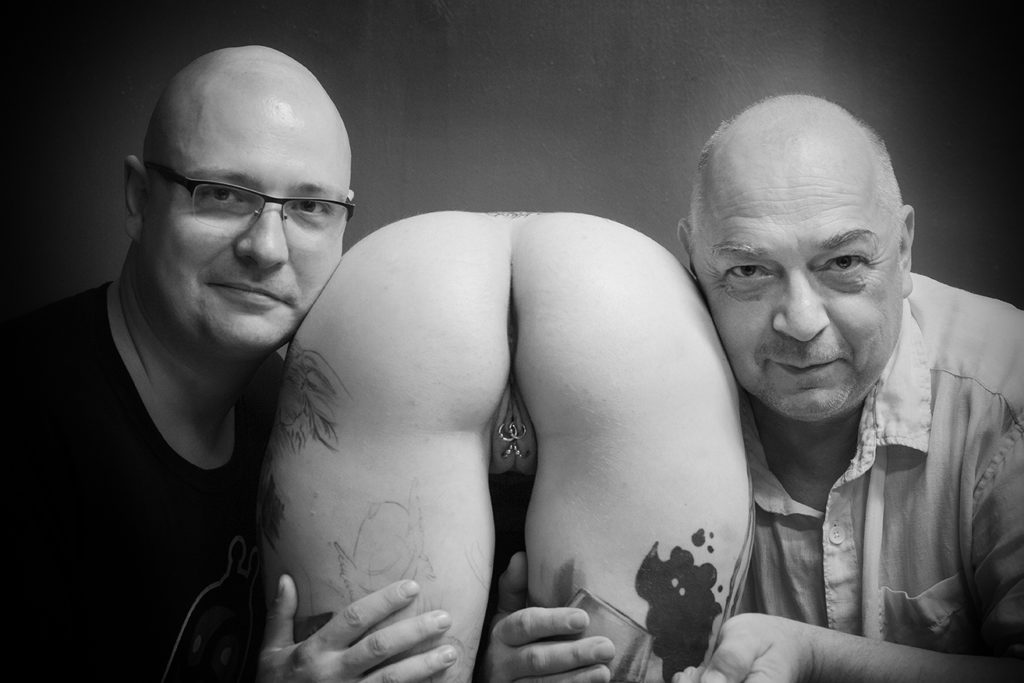 Míla Bugtcher, piercer, modificator and sadist
When Petr came to me with koncept of this project I was delighted. We work together for a long time and the truth is, that this project we callsigned "Pussies" exactly covers our interests. On one side my stance to pain, that I try to avoid in my piercing profession and on the other side I love to deal in my private life. On other side there is Petr's enthusiasm in taking photos of everything unusual and kinky.

Basic principle of this project was visual closing of outer parts of female genital using any kind of stuff from surgical suture up to metelic jewelry. Technique and materials were up to my choice, photographical work specifications was Petr's choice.

I chose models of my friends, who had positive attitude to excentric aesthetics and from masochists I have met during my lifetime escapades. My conditions were my positive attitude to them and my lust to cause pain to them, their conditions were trust in my skills and lust for receiving pain from me. In the beginnig we went forward quite fast, but I felt I am losing inspiration and during project I had to make year lasting break to continue in future. I consider project as finished, but still I am preparing new designs with another ladies, who asked me to add them to project additionally.
Photographer Petr Jedinák
I have one lifelong photographic theme. The lady part- cunt. I am fascinated by the object itself and by my creative greed, which seems to be insatiable. There is countless number of ways to capture, to hold or to understand it. And my imagination keeps creating new and next ways. For example I desired to make portraits of modificated, pierced or sewed pussies a while ago. There isn't a better place to do that than in colaboration with tattoo and piercing studio Hell.cz, who I work together with for long years. And who else than Míla could help me with this desire.
Words met words and pussies met ther spikes and spectacular photography collection was made. The piercer did keep the direction with his experience. With his knowledge of Models and with respect of their bodies' shapes he created temporary jewels and I captured that. So we put this collection together and now we bring it to you. I would like to thank to all the participants here. If there were no knowedge of the piercer and enthusiasm of the Models, it would be just a project. I hope that you enjoyed yourselves as much as I did. Thank you.
Fotografie z cyklu Hidden Pleasures si můžete také zakoupit jednotlivě i jako celý cyklus.